Dear Powerian,
We are thrilled to announce the launch of DeInfra Testnet Phase 2! But first, the core team wants to thank you for your efforts in supporting Power DCloud and DeInfra DAO projects. Before we start talking about Phase 2, let's review the basic things and results of Phase 1.
What is Power DCloud
Power DCloud solves the actual problem of web3 world: the inability to build really decentralized dApps, without centralized parts or service providers (like AWS, Alchemy, Infura, DNS, etc).
DCloud decentralized infrastructure fully replaces traditional centralized platforms with all the functionalities that developers have in centralized clouds and services, but on Power DCloud it's on-chain and truly decentralized.
As a result, full-fledged decentralized applications can be created, far beyond simple, smart contracts existing in the current web3 systems and L1 blockchains. Power DCloud enables full-stack applications to work forever in a really decentralized way, with Zero-Maintenance services and all the necessary services.
i.e.: «Just imagine a decentralized AWS focused on Web3 applications in a really decentralized way, with a decentralized AppStore to distribute applications to end users.»
What is DeInfra Testnet
Participants who contribute to the testnet will be awarded with project tokens, OATs (on-chain achievement tokens), and the most active and valuable participants could become network maintainers within the mainnet and members of DeInfra DAO.
The testnet has several phases with different challenges and technical requirements for node providers, developers, and QA testers. The purpose of the testnet is to test the network and products, collect UX/UI feedback, and build a core community. The testnet will also have a bug bounty program to incentivize the community to help find gaps in the code.
🚀 DeInfra Testnet Phase 1 Review
Celebrating Community Successes & Learning From Our Lessons!
🎉 It was an exciting journey filled with many challenges and successes. We would like to take this opportunity to share with you what we learned, what worked well, and what we will be doing next.
DeInfra Movement is a community effort aimed at building a decentralized infrastructure that truly serves the community. It is driven by the belief that a decentralized infrastructure will provide everyone with more stability, security, and freedom.
The DeInfra Testnet Phase 1
was a crucial step in this journey, and the team is now ready to take the next step to bring the vision of a decentralized infrastructure closer to reality.
💥 Community Successes
🎉 Testnet network launched!
We received almost 4,000 applications, and more than 800 participants passed the test tasks. Although our initial goal was to launch 100 nodes, we ended up launching almost 300! We are so grateful for the overwhelming interest in our project.
🚀 Cross-chain launched!
We launched our cross-chain, and thanks to our team's hard work, it was able to start up without the need for manual configuration by the decentralized network.
💻 Simplified node configuration and tea ceremony process.
We reduced the number of parameters for node configuration, making it easier for participants to set up their nodes. The main manual configuration required is obtaining domains and certificates and obtaining private keys for nodes.
🛠️ Core Team Lessons
💻 Domain centralization
Many of the testnet participants did not have their own domains, and obtaining SSL certificates was a challenge. This highlights a significant problem of centralization, which we plan to solve in future phases. The community is welcome to offer its own solutions or projects that are not vendor-locked to any blockchains but are agnostic.
💻 Difficulty configuring nodes
For many participants, setting up nodes, configuring Erlang, generating keys, and connecting them to the node were challenging.
💻 Servers migration
During the testnet, many participants moved to new servers, and we had to adapt our platform to accommodate this migration.
We hope this retrospective of the main objectives and results of DeInfra Testnet Phase 1 has been helpful and informative. Thank you for your continued support and interest in our project and the DeInfra Movement.
🚀 DeInfra Testnet Phase 2
🎉 Get Ready to Scale!
We are excited to announce that we will be moving forward to DeInfra Testnet Phase 2! All nodes from Phase 1 will be scaled by seed nodes in Phase 2. Any bad or offline nodes will be replaced by candidates from the seed nodes.
🎉 The goals of Phase 2
The main objectives for this phase include testing transactions, smart contracts, Power Hub, and Power SDK. In addition, we will be testing staking on Devnet, which will be available to noders in the third phase of the testnet. Noders will be able to set up seed nodes that can later be converted to consensus nodes.
Testnet nodes will be available for project development, providing opportunities for noders to engage with the DeInfra DAO and contribute to the development of Power DCloud. We are looking forward to working with our community to make a successful project!
💰 Rewards
To incentivize noders, we have introduced additional coefficients in Phase 2 as uptime and all necessary settings, including HTTPS, are important.
At the end of the month, we will calculate the total uptime of the testnet chain. The best chain each month will receive an additional 15% bonus points coefficient.
🏅 DeInfra DAO Roles. Claim Your OATs:
We have setup the Noders Guild of DeInfra DAO, where participants can take on roles and contribute to the growth of the network.
All participants of Phase 1 of the testnet can soon claim their On-chain Achievements Tokens (OATs) with quests
thepowerio.crew3.xyz
.
🏦 Ecosystem Growth Fund
The dedicated incentives include an incentivized Testnet campaign, an Ambassadors program, a Creative incentive campaign, Grants for partners, developers, science research, and non-tech contributors, and an Events fund.
The Smart Key (SK) Token is the core native gas-like token of Power DCloud, which is a utility token needed to perform network operations.
📄 Prerequisites for a node
📢 Noder Rules and Regulations:
These rules and regulations are in place to maintain the integrity and stability of the Power DCloud network. We appreciate your cooperation in following these guidelines.
If a Power Node is not running or does not respond within a week (even via HTTP), it will be excluded from the noders.
If the Power Node is running, but there is no access through one of the ports for a week, points will no longer be counted.
If the Power Node is running, but there is no access through one of the ports for two weeks, it may result in exclusion from the noders.
If the Power Node is running, but on an outdated version, points will stop being counted after one week.
If the Power Node is running, but on an outdated version, exclusion from the noders may occur after two weeks.
🚀 Ready? Start here!
We are thrilled to start Phase 2 of the DeInfra Testnet campaign and cannot wait to see what our community of noders can achieve.
We have updated the Power Rover bot to help our community transition from the web2 world to the web3 world and launch their nodes.
The other quests will be available through the quest board at
thepowerio.crew3.xyz
in the next sprints of Phase 2.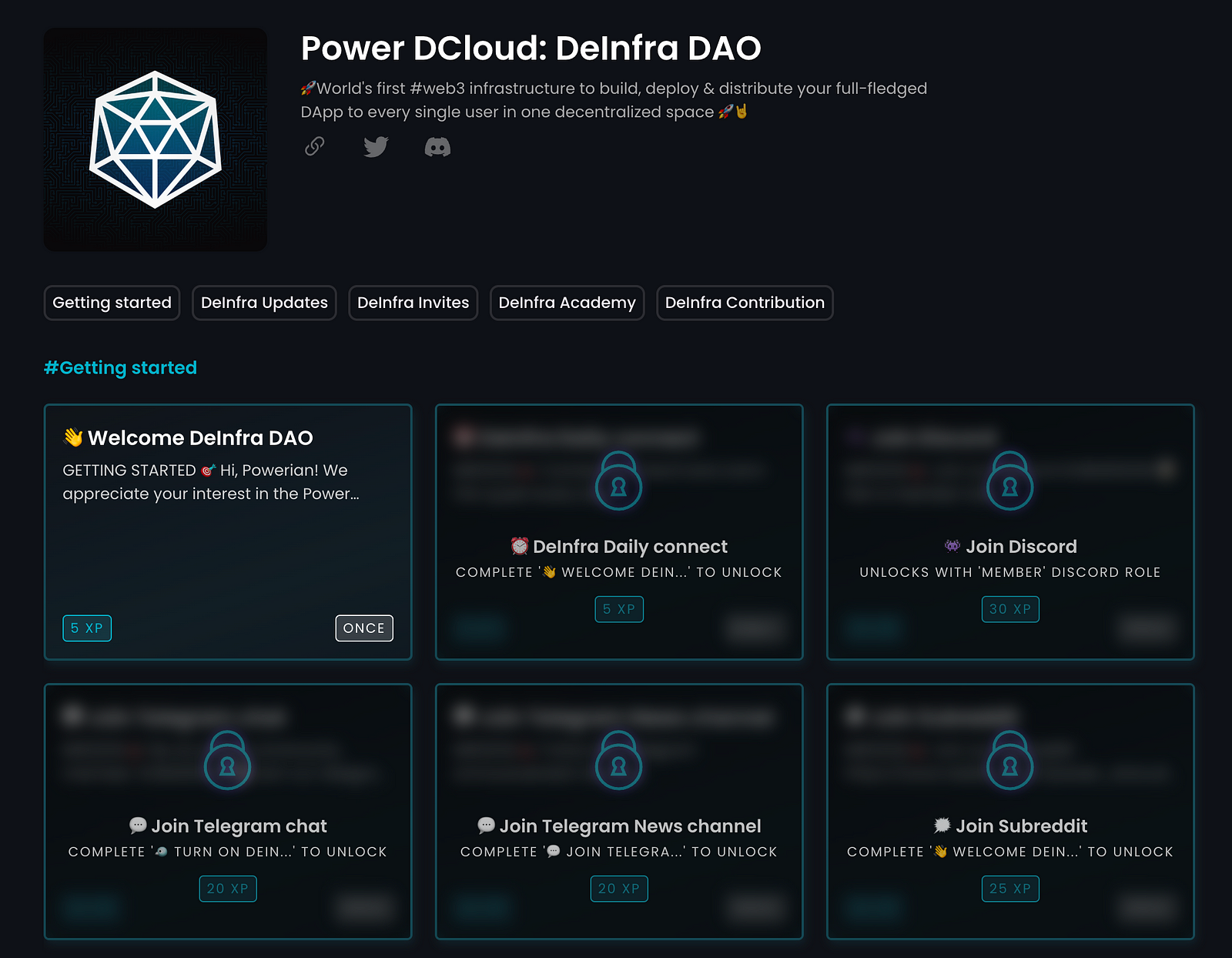 Let's continue building DeInfra together!